TRANSRADIO SENDERSYSTEME BERLIN HQ
QUADRANT ANTENNAS HQ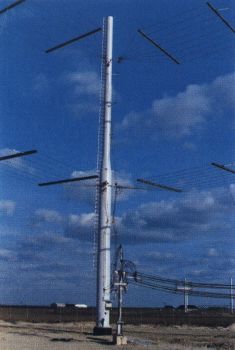 Quadrant Antennas are suitable for the coverage of areas ranging from small to medium distances (up to 2000 km).

They have essentially an omnidirectional radiation pattern. The elevation angle is determined by the electrical height above ground.

The standard versions are suspended so that target areas up to 2000 km can be reached with a single reflection from the ionosphere.

Larger distances can be reached by multiple reflections.

All antennas are manufactured from high quality materials. The choice is based on long term experience gained in the field of corrosion and statics. For example, HF conducting parts such as dipoles and feed lines are fabricated from sea-water resistant aluminium or aluminium alloys, copper or bronze may also be selected. The reflectors are constructed from bronze rope. Supporting ropes, fittings and standard parts are made from stainless steel. Top and side catenaries of the curtain antennas are fabricated either from stainless steel or Parafil rope. The HF insulators are made from glazed ceramic (KER 221). Load factors are calculated according to DIN 4131 and higher loadings can be accommodated on request.