TRANSRADIO SENDERSYSTEME BERLIN A 0686/1
ROTATABLE SHORTWAVE CURTAIN ANTENNAS A 0686/1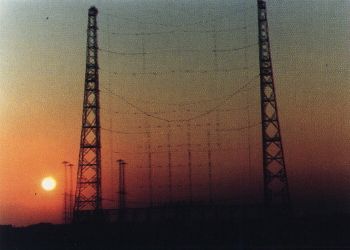 For certain applications it is advantageous to employ Rotatable Shortwave Curtain Antennas.

These are high power, high gain antennas capable of targeting areas in any direction without the need to erect the usual large antenna systems.

The rotatable antennas delivered over the last 30 years were designed and built according to customer specifications.

Basically they consist of two curtain arrays placed back-to-back with a reflector screen in the middle.

The system is suspended between two towers.

The towers are connected by a bridge attached to boogies which travel along a circular track, enabling the complete system to rotate through the vertical axis.

All antennas are manufactured from high quality materials. The choice is based on long term experience gained in the field of corrosion and statics. For example, HF conducting parts such as dipoles and feed lines are fabricated from sea-water resistant aluminium or aluminium alloys, copper or bronze may also be selected. The reflectors are constructed from bronze rope. Supporting ropes, fittings and standard parts are made from stainless steel. Top and side catenaries of the curtain antennas are fabricated either from stainless steel or Parafil rope. The HF insulators are made from glazed ceramic (KER 221). Load factors are calculated according to DIN 4131 and higher loadings can be accommodated on request.